PROJECT: COMMERCIAL CAR WASH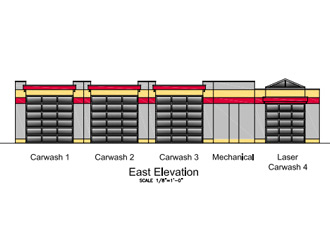 Project Details

Location:
2801 10th Ave NE, Salmon Arm
Process:
Development Permit and Building Permits
Client:
SRG West Arm Holdings Ltd.
Architect / Lead:
Ted Thomas of Ted Thomas/OSA Architects Ltd
Comments
The proposal included 3 self-serve carwash bays and 1 automatic carwash staggered on the site's north side. The 1 storey buildings were constructed from precast cement and feature the following detailing:
Canopy overhangs at the entrance and exit points to reduce ice hazards;
Large north facing windows to ensure occupants safety and allow natural light;
A glass peak feature on the automatic car wash bay;
A discreet finish colour with bold accents in red and canary yellow;
Epoxy interior wall finish to prevent water and other material penetration keeping the carwash clean;
Graffiti resistant exterior finishing.
Urban Options role in the project was to take the proposal to Salmon Arm Planning Staff, the Advisory Planning Review, Technical consideration by Council and finally to the Public Hearing where Council unanimously agreed to the project and the Development Permit was issued.
Client Review
Urban Options was instrumental in all aspects of the two projects we engaged in together. Birte met the criteria in an efficient and timely manner. Additionally, she was confident and thorough in her presentation before council and the public. Urban Options brought an understanding of important details that clarified architectural intent leaving all those involved empowered to do their most effective work. We will continue to use this very valuable service! - Ted Thomas
Building Permits - LEARN MORE