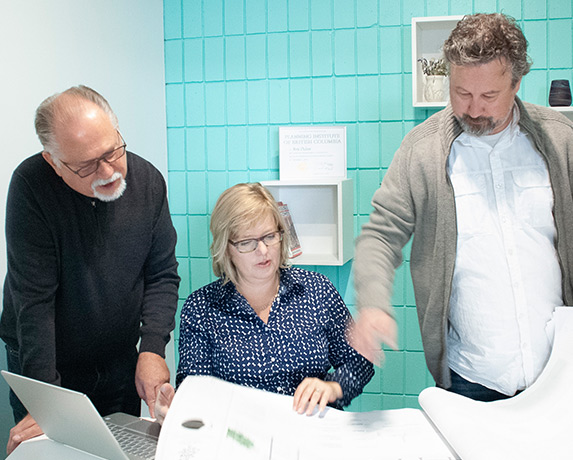 ABOUT URBAN OPTIONS
YOUR LOCAL GOVERNMENT SPECIALISTS
Founded on customer service, active communication, and integrity, Urban Options Planning & Permits advocates at the municipal level for individuals and developers with small to mid-size development projects. With a pragmatic and realistic approach to regulations, the Urban Options team works to find the best solutions for both project and community.
With over 30 years of combined planning experience, Urban Options will skillfully navigate the municipal application process, shorten approval times, and alleviate frustrations associated with Zoning Bylaws. Placing a high value on community, Urban Options effectively connects with and understands the municipalities with which they work.
"We stay on top of development issues and trends, not just in Kelowna but also within our surrounding municipalities. It's important to recognize and understand the larger picture so that we're all working toward the same long-term effect for our community."
A network of expertise adds to Urban Options' efficiency and effective navigation of your development project applications.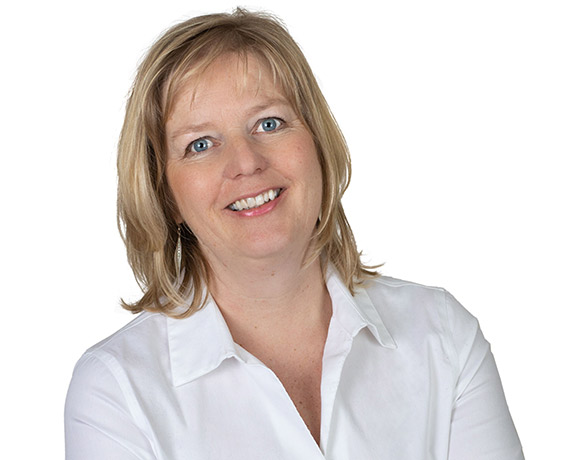 BIRTE DECLOUX, RPP MCIP
ALLEVIATING THE ONEROUS PROCESS OF REZONING AND DEVELOPMENT
Birte's experience as a land use planner with the City of Kelowna equips her with the knowledge and strategy it takes to submit a successful development application. She uses her highly specialized knowledge to help people achieve their development dreams, working to alleviate the confusion and intimidation often felt by those navigating the legislation and application process on their own.
Birte's management of over 500 small- to mid-sized development application files while working with the City revealed that many people were ill-prepared, resulting in approval delays for the applicants. She recognized that people needed advocacy; they needed to understand and relate to the regulations they came up against. And so Urban Options Planning & Permits came to be.
A quest for knowledge and a desire to be helpful motivates Birte; she has always immersed herself in distinct careers, hobbies, and activities resulting in a diverse professional path.
Birte's training and experience, multifaceted perspective, and understanding of various fields gives her a unique and highly developed skill set for urban planning, community consensus building, facilitating negotiations, and cooperation. As a Registered Professional Planner (RPP) and member of the Canadian Institute of Planning (MCIP), Birte demonstrates her knowledge of legislation and current industry practice. Continual education maintains Birte's designation and affirms her commitment to responsible planning and to the sustainability of safe, healthy, and secure urban environments.
Birte is a former member of the Central Okanagan Heritage Society Board, where she plays a role in the maintenance and sustainability of heritage buildings in our community.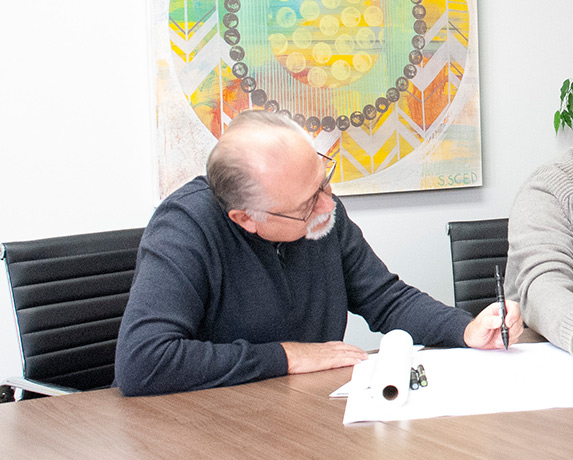 PAUL MCVEY
FACILITATING SUCCESSFUL DEVELOPMENT PROJECTS
Paul McVey's involvement in the development industry spans the majority of his working career, starting with subdivision engineering and construction, then proceeding to building design and development with a design-build contractor. He worked with Kelowna's municipal government in the Building Department and concluded in the Planning and Development Service Department.
Now, after 25 years with the City of Kelowna, Paul is available to help you navigate the application and permit process to obtain your development and building permit.
Paul enjoys cycling and mountain biking; in good weather you can find him on the Okanagan Rail Trail. Paul also enjoys local food and wine.